EQS From Mercedes-EQ Vs. Lucid Air Comparison

If you're on the hunt for an all-new, all-electric luxury sedan, you undoubtedly want to compare the EQS vs. Lucid Air differences in range, performance, acceleration, and features. While the Lucid Air numbers seem impressive, they may not add up to the driving experience you want. Let's compare the interior, safety features, and tech in both vehicles to see which new electric sedan provides the luxury and enjoyment you want from your daily driver.
EQS vs. Lucid Air Interior Comparison
The first place we'll start our EQS vs. Lucid Air comparison is the interior. The new EQS immediately distinguishes itself from other premium luxury electric cars for sale thanks to the 12.8-inch OLED touchscreen central multimedia display and MBUX digital in-dash displays. These multimedia displays advance the industry with crisp, clear pixels for an enhanced visual experience while users enjoy an intuitive experience navigating the touch controls. Easily pinch, swipe and tap through menus or use the hands-free Bluetooth® audio streaming with an advanced voice recognition system.
While what's under the hood of the Lucid Air delivers impressive numbers, we sit in the driver's seat. Unfortunately for Lucid owners, you won't find a 12.8-inch OLED touchscreen or MBUX digital in-dash display in this vehicle's cabin. Since you're comparing the interior of the Lucid Air vs. EQS from Mercedes-EQ, you might also want to look at our EQS vs. Tesla Model S comparison to see how how the EQS stacks up against the Model S.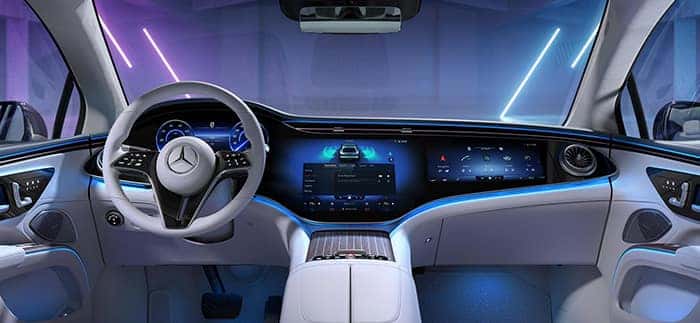 | | EQS 450+ | Lucid Air Pure |
| --- | --- | --- |
| Motor | Permanently Excited Synchronous (PSM) | Dual ActiveCore |
| Horsepower | 329 | 480 |
| 0-60 Time | 5.9 sec | 2.5 sec |
| EPA – Estimated Range | 350 miles1 | 406 miles2 |
| Seating Capacity | 5 | 5 |
| Drive Type | Rear-wheel drive | All-wheel-drive |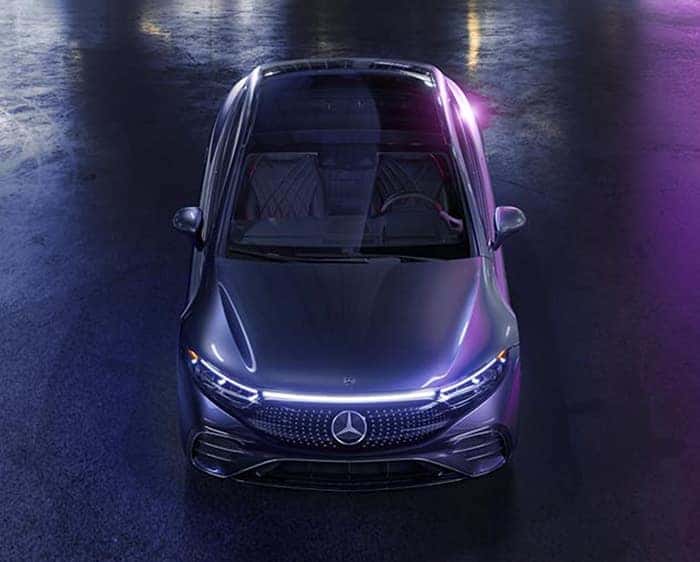 Trim Models and Paint Options
Compare the Lucid Air vs. the new EQS from Mercedes-EQ and declare a winner, then build your vehicle and apply for available new vehicle specials on electric cars.
The EQS offers a perfectly curated range of models and trim levels that include:
EQS 450+ Premium Trim
EQS 450+ Exclusive Trim
EQS 450+ Pinnacle Trim
EQS 580 4MATIC® Premium Trim
EQS 580 4MATIC® Exclusive Trim
EQS 580 4MATIC® Pinnacle Trim
AMG® EQS Premium Trim
AMG® EQS Exclusive Trim
AMG® EQS Pinnacle Trim
Stylish paint options include:
Cirrus Silver metallic
Polar White
Graphite Grey metallic
Onyx Black metallic
Nautical Blue metallic
Obsidian Black metallic
Twilight Blue metallic
MANUFAKTUR Diamond White metallic
MANUFAKTUR Selenite Grey Magno
MANUFAKTUR Cardinal Red metallic
Comparing Features
The EQS Premium Trim has ventilated front seats, luxury head restraints in both rows, a panorama roof, and dual-zone automatic climate control. Popular enhancements on the Exclusive Trim include rapid-heating front seats, heated power front seats, and multicontour front seats with massage and memory. Optional features on the new EQS Pinnacle Trim include the AMG® line exterior and interior, a body-color rear spoiler, and all-season extended mobility tires.
The new Lucid Air is offered with a few trim models. The only differences between the model variants seem to be maximum horsepower and range estimates. If you're happy with what Lucid decides your features should be, you'll have the following models to choose between:
Lucid Air Pure
Lucid Air Touring
Lucid Air Grand Touring
Lucid Air Grand Touring Performance
Lucid Air Dream Edition Performance
Lucid Air Dream Edition Range
But if you want to choose the features and options of your new luxury electric car, our EQS vs. Lucid Air comparison, shows where the new EQS from Mercedes-EQ pulls ahead. We invite you to our EV dealer for a personal tour to explore the lineup of new EQS electric cars for sale.
Frequently Asked Questions
How fast is the EQS from Mercedes-EQ?
For the EQS 450+ model, the EQS 0-60 time is 5.9 seconds from a Permanently Excited Synchronous (PSM) motor with 329 horsepower and 417 pound-feet of torque. When it comes to performance, the new EQS from Mercedes-EQ has an EPA-estimated range of 350 miles,1 AC charging time (10-100%) of 11.25 hours, and a DC charging time (10-80%) of 31 minutes.
Can the EQS use a Tesla charger?
The new EQS from Mercedes-EQ can be charged at thousands of electric car charging stations from providers such as ChargePoint® across the United States. The Tesla charger and Supercharger network is specifically for Tesla electric cars.
Is the EQS faster than a Lucid Air?
The EQS from Mercedes-EQ provides the right amount of acceleration for a premium electric vehicle. The EQS 450+ 0-60 mph time of 5.9 seconds and the AMG® EQS 0-60 time of around 3.4 seconds provide confident and composed acceleration. The Lucid Air Pure has an estimated 0-60 mph of 2.5 seconds.
---
1Estimates only. For more information, please visit the official US government source for all fuel economy at www.fueleconomy.gov.
2EPA estimated range ratings when equipped with 19" wheels: 520 Dream Edition R/471 Dream Edition P/516 Grand Touring. Actual results may vary. Air Pure and Air Touring 406 range are based upon manufacturer's projected EPA estimated range when equipped with 19″ wheels. Projected EPA estimated ranges are subject to change.