EQS Vs. Tesla Model X Comparison: Performance, Interior, & Features

Comparing the EQS vs. Tesla Model X is an excellent way to help you choose the best all-electric luxury SUV for your modern lifestyle and needs. Do you prefer power, performance, or interior design? If you're considering these SUVs, chances are you won't settle for less than the best of all three of these categories. Read our EQS vs. Tesla Model X comparison to learn how these high-end vehicles measure up and which will integrate the most seamlessly and enjoyably into your life.
After you discover the power, interior conveniences, and technology outfitted in the 2023 EQS, pop into our dealership in Atlanta, GA, to test-drive the exciting new model and see all the amenities for yourself. Nothing says luxury like a new EQS from Mercedes-EQ right here at Mercedes-Benz Atlanta South.
---
Discover EQS vs. Model X Trim Levels
Choose among three luxurious trim levels when browsing the EQS. These trim levels include:
Premium
Exclusive
Pinnacle
Each trim of the new 2023 EQS offers new safety features, technology, and convenience features like multi-contour seating with massage functions and luxurious microfiber headliner designs. The Pinnacle trim offers the ultimate just like its name implies, including a heated third row and an indulgent interior.
Comparatively, the Tesla Model X only offers two trims: the base Model X and the Model X Plaid. The Model X Plaid offers all of the same luxuries that come with the base model and boosts the acceleration time. The Plaid trim can go from 0 to 60 in only 2.5 seconds but loses out on 15 miles of range.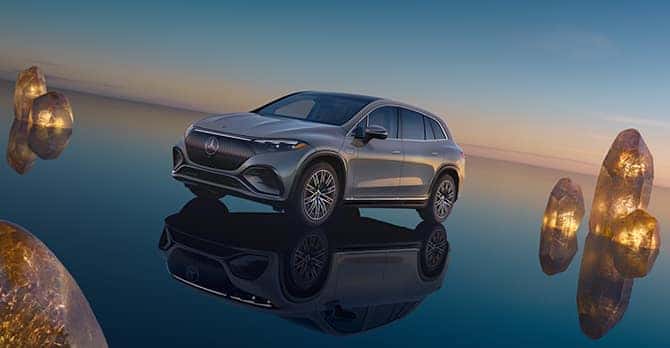 ---
2023 EQS vs. Tesla Model X Specifications
Jump into the 2023 EQS if you want a car that balances ample horsepower and luxury. This SUV can give you up to 649 horsepower on a single-speed automatic transmission capable of going from 0 to 60 in just 4.1 seconds. With up to 340 miles of range,1 you can go a long time without thinking about charging. Enjoy a seating capacity of up to seven on certain trims and a maximum cargo capacity of 74 cubic feet for all your necessities.
Although the Tesla Model X offers 670 horsepower and a fast acceleration time, this vehicle lacks massage technology that can make sitting in traffic a treat. Swap comfort and refinement for speed by choosing a Tesla Model X, which can take you from 0 to 60 in a slightly faster 3.8 seconds and reach a top speed of 155 mph. The Model X Plaid boosts the horsepower to 1,020 and drops the range from 348 to 333.2
---

Interior & Safety Features for Every Lifestyle
Jump into the new EQS to take advantage of active distance assist and steering assistance. You won't have to worry about short-stopping with active brake assist and enhanced communication systems that will help in emergencies.
While the Tesla Model X has auto-pilot and nascent self-driving technology, the EQS will give you more control and let you steer your own ship. Keep safety at your fingertips in the EQS by using features that will help you change lanes, steer your vehicle, and detect damage when parking.
---
Explore EQS vs. Tesla Model X Technology
The EQS and Tesla Model X go toe-to-toe in the technology department since both offer plenty of charging ports, entertainment, and navigation features. The EQS offers a 17.7-inch touch-screen display while the Model X makes do with a 17-inch display. Each vehicle offers a slightly smaller passenger touch-screen display to assist with additional features.
As you can see, Mercedes-EQ focuses on supreme comfort and luxury materials while Tesla aims for a more science-fiction type of power. For refinement and high-end class, the EQS is a clear winner. Contact us at Mercedes-Benz Atlanta South to finance your new EQS today.
Shop the New EQS at Mercedes-Benz Atlanta South
View our 2023 EQS SUV for sale to experience top-tier performance and luxury all in one classy vehicle. Our specialists are standing by to help you tour the EQS, answer questions about leasing or purchasing, and schedule a test drive today.
While you're there, explore our Mercedes-Benz EV inventory to see which options you can fall in love with for the utmost comfort and excitement on the road.
Frequently Asked Questions
Do the EQS and the Tesla Model X have a comparable range?
The EQS and Tesla Model X both have an excellent electric range that makes both cars great introductions into the electric-vehicle sphere. With the EQS, you can expect to get around 340 miles on a single charge1 while the Tesla Model X can get 333 or 348,2 depending on the trim. With a much greater emphasis on luxury and comfort and a comparable range, the EQS shines.
What standard features does the EQS have that are not available on the Model X?
The EQS easily beats out the Tesla Model X in multiple areas, including cargo capacity, luxury refinement, and overall size. The EQS is longer and offers more passenger volume to avoid discomfort. You can expect a rapid charging time with your EQS as a standard feature. The three available trim levels include amenities like rapid-heating seats and a heated steering wheel that make this car a treat.
Is the EQS more comfortable than the Model X?
The EQS is designed with comfort at the forefront, whereas the Tesla Model X typically focuses on overall power and performance. You can hop into an EQS and expect some of the utmost comfort from rapid-heating seats, a heated steering wheel, four-zone climate control, and massage technology that will have the stress melting away within minutes of driving.
---
1EPA estimated driving range with a fully charged battery. Driving range may vary based on model, terrain, temperature, driving style, optional equipment, use of vehicle features, and other factors.
2Estimates only. For more information, please visit the official U.S. government source for all fuel economy at www.fueleconomy.gov