If you're looking for an electric luxury sedan, then the 2022 Mercedes-Benz EQS sedan is not to be missed. The all-new 2022 EQS delivers elegance, performance, and sustainability. With DC fast-charging capability of around 31 minutes and a 0-60 time of 4.1 seconds in the EQS 580 4MATIC®, it's clear there is going to be a 2022 Mercedes-Benz EQS sedan vs. Tesla S debate. Contact our dealership to learn how to reserve your new EQS sedan and find out about the current 2022 Mercedes EQS release date.
2022 Mercedes EQS Range and Performance
With 329 horsepower and 406 pound-feet of torque, it's easy to see how this new electric luxury vehicle for sale can reach an estimated top speed of 130 MPH. As far as handling, usability, and driver comforts are concerned, the 2022 Mercedes-Benz EQS sedan boasts rear-axle steering up to 4.5-degrees for a tight turning radius, while the AIRMATIC® Air Suspension with Adaptive Damping System gives you and your passengers a smooth ride.
To ensure your new electric luxury vehicle is always dressed for the occasion, the 2022 Mercedes-Benz EQS sedan arrives with the Dynamic Select drive-mode system. When your performance needs a shift or the weather changes, drivers can toggle between Comfort, Sport, Eco, and Individual driving modes to tailor the EQS to the conditions. The new EQS electric car for sale also comes with adjustable regenerative braking and steering-wheel-mounted paddle shifters for sporty performance.
2022 Mercedes EQS Innovations
When it comes to all-new electric cars for sale, charging time and range are at the top of every buyer's mind. Before you even ask for the 2022 Mercedes EQS price, you're probably wondering how long it takes to charge. With standard AC charging (240V), the EQS will go from 10 – 100% in 11.25 hours. If you plug into a DC fast-charging (200kW) outlet, you can get your new electric Mercedes-Benz from 10 – 100% in just 31 minutes.
2022 Mercedes-Benz EQS MBUX Hyperscreen
The crown jewel of the 2022 Mercedes-Benz EQS sedan is the MBUX Hyperscreen. The curved display unit on the driver's console nearly stretches the entire width of the dashboard. The MBUX Hyperscreen is designed to harmonize digital and analog elements to create a seamless experience for the driver and passenger. Along with being a bold visual statement, the new Mercedes-Benz Hyperscreen is one of the most notable 2022 Mercedes EQS Innovations.
The most important applications are intuitively displayed in the top-level view so you always have easy access to your favorite media. To do this, the MBUX Hyperscreen uses AI learning software that adapts to your habits and preferences to build a custom experience, so you don't need to scroll through menus or use voice commands to call up the functions and features you want. The MBUX Hyperscreen is there for you and your passengers to attentively provide for your needs and change how you interact with your car.
What Is the Mercedes-Benz EQS Screen?
The stunning MBUX Hyperscreen combines super intelligent computing power with artificial intelligence to craft a unique user experience. The new Mercedes-Benz Hyperscreen is in charge of the following systems:
Phone
Charging
Entertainment
Navigation
Social Media
Connectivity
Massage
G-Force Meter
And More!
Advancing Safety
Along with providing many comforts for you to enjoy behind the wheel, the 2022 Mercedes-Benz EQS sedan also provides for your safety. Starting at the front of the vehicle, this new electric luxury sedan boasts an intelligent lighting system with front & rear LED light bands, as well as Active High Beam Assist. The Driver Assistance Package includes safety features such as Active Distance Assist, Active Lane Keeping and Blind Spot Assist, and PRESAFE® PLUS, including PRESAFE® Impulse Side. When you call to inquire about the 2022 Mercedes EQS release date, be sure to ask our sales team about these features and more.
Features and Comforts
Along with the MBUX Hyperscreen that delivers an immediate wow factor, the 2022 Mercedes-Benz EQS sedan also offers wireless smartphone integration and charging for your compatible device. When you slip behind the wheel, you are welcomed into the cabin by Active Ambient Lighting with illuminated door sill panels, the KEYLESS-START® system, and KEYLESS GO® with seamless door handles & hands-free access. This all means that when you walk up to your new EQS, the door will detect your presence and open automatically for you. Then, when you depress your foot on the brake pedal, the door will close. Just another way that the 2022 Mercedes EQS innovations create a luxurious driving experience.
Electric Luxury Sedan Design Elements
The front of the Mercedes EQS sedan is a blanked-off trim piece instead of the iconic chrome grille, which sets the 2022 EQS apart from the rest of the new Mercedes-Benz lineup and tells the world you drive a new electric luxury car. The 19-inch wheels are standard and engineered to deliver maximum efficiency for improved range, but if you prefer the ride feel of 22-inch wheels, that option is available to you. The car's hood is also shorter than other new Mercedes-Benz cars for sale because there isn't a gasoline-powered engine beneath it, allowing for a smooth, contoured design.
Pricing for the 2022 Mercedes-Benz EQS
What we include in our lives is a reflection of who we are and what we've achieved. What if an EV luxury sedan could be more than just a car? What if it could be a captivating work of art, truly designed to elevate your daily experience? Crafted with imagination, intuition, and sheer joy for all the senses, your new 2022 Mercedes-Benz EQS has a price starting at $102,310 MSRP.1 Owning and driving such a forward-thinking machine will undoubtedly make you feel like a million dollars (unless, of course, you're worth more). Contact your concierge and have one built to your exact specification.
You're Cordially Invited to Experience the 2022 Mercedes-Benz EQS for Yourself
Click to make a reservation or speak with your concierge at Mercedes-Benz Atlanta South. From Oct. 21, 2021, to Oct. 24, 2021, you will be able to reserve time to get behind the wheel of a vehicle that is driving the future of this cherished global brand. Be one of the first to discover all that this model has in store for you, but most importantly, be one of the first to reserve and take yours home. If you're comparing the 2022 Mercedes-Benz EQS to other electric vehicles, we'd like to help. Compare the Mercedes-Benz EQS and Tesla Model S to see just how advanced our technology is.
2022 Mercedes-Benz EQS FAQs
How much will the 2022 Mercedes-Benz EQS cost?
The future is yours with a 2022 Mercedes-Benz EQS 450+, with a starting price of $102,310 MSRP.1 At that trim level, you can expect to find everything from your wildest dreams. Depending on how imaginative you like to be, you can also find the pinnacle of luxury for you and your passengers in a 2022 Mercedes-Benz EQS 580 4MATIC®. The Pinnacle trim level for this superb vehicle (along with a selection of add-ons) can be yours for a starting price of $125,310 MSRP.1
What will be the Mercedes-Benz EQS range?
Official estimates from the EPA have not yet been determined. But being a true Mercedes-Benz luxury touring car, we can expect that final values will be impressive. Keep in mind that factors such as weather, driving style, equipment usage, maintenance, payload, and equipment packages will all play a part in your available range.
When you are ready to take this electric luxury vehicle home to your door, get in touch with our dealership to reserve yours. Our sales associates can tell you more about the upcoming 2022 Mercedes EQS release date and answer any questions you have about the 2022 Mercedes EQS price. If you are debating which new electric luxury sedan is best, you might be wondering how the Mercedes-Benz EQS compares to the Tesla S. If so, be sure to ask our team about how the 2022 Mercedes EQS sedan outperforms other vehicles in its class and why it deserves a spot in your garage.
If you would like to receive notifications about the 2022 Mercedes EQS release date and when you can reserve yours, let us know. We're excited to help you explore this new electric Mercedes-Benz for sale and tour you through the artificial intelligence features found on the revolutionary MBUX Hyperscreen!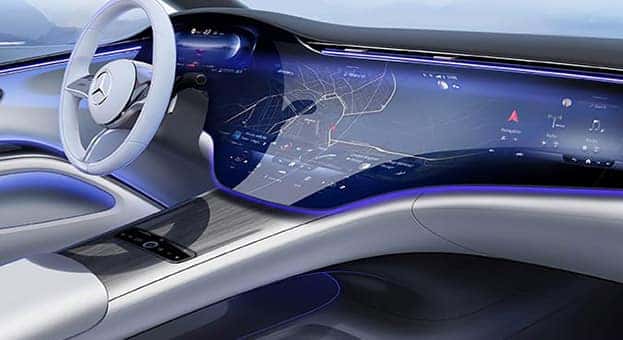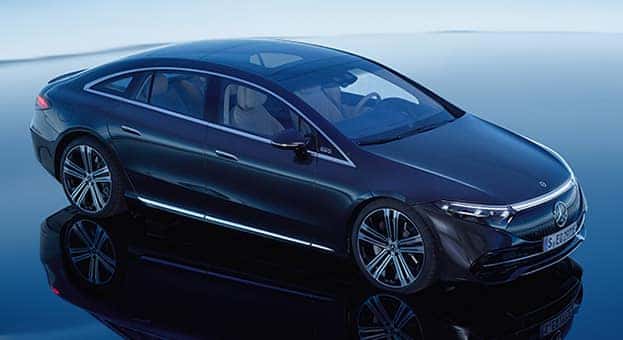 ---
---
1Base MSRP excludes transportation and handling charges, destination charges, taxes, title, registration, preparation and documentary fees, tags, labor and installation charges, insurance, and optional equipment, products, packages and accessories. Actual vehicle price may vary by Dealer.